Flyer, a quintet of aviation-oriented musicians,
takes off with crowd-pleasing music
By Donna Harris
Cherokee Tribune Staff Writer
Take a couple of pilots who play guitar, add a guy who builds fighter jets and pounds the drums and throw in a psychologist on keyboards and a medical technology student on bass, and you've got one healthy, high-flying rock band.

Flyer, a quintet of aviation-oriented musicians, covers the gamut of rock and blues dating back as far as the '50s. They play the vintage tunes of Eric Clapton, The Rolling Stones, The Beatles and The Eagles; the Southern rock of Lynyrd Skynyrd, ZZ Top and The Allman Brothers; the working-class songs of Bruce Springsteen and John Mellencamp; the smooth sounds of Journey and Elton John; and the classic hits from Bill Withers, The Temptations and Chuck Berry.

"The music we do sparks a lot of memories and puts everybody in a good mood," said Lex Lauletta of Woodstock. The captain and senior training instructor with Delta Air Lines plays acoustic and electric guitars and harmonica. "We play the late '50s danceable music to the stuff of today as well."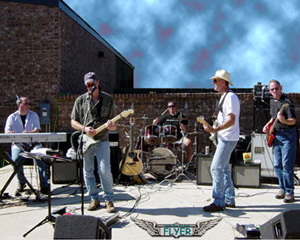 The other "flyboys" making up the band are Mark Bradley of Roswell, also a Delta captain who plays guitar; Neil Johnson of Marietta, senior manager of product control for the F/A-22, the new fighter jet being built at Lockheed Martin Aeronautical Co., on drums; Steve Kincaid of Roswell, a psychologist and vice president of consulting for Right Management Consultants who "flies a lot," on keyboards; and Dave Lester of Athens, formerly of Cherokee County, who is studying medical technology at the University of Georgia, on bass.

All members sing except Lester so there isn't a designated lead singer, Lauletta said.

"It's just, 'OK, who can sing this song?'" he said.

"We're five guys who really enjoy playing music," said Lauletta, 46, who relocated from Orlando, Fla., to metro Atlanta seven years ago. "We wanted our music to be 'Hey, this band is pretty good,' instead of 'For a bunch of pilots, you guys are not bad.' Despite all of our day jobs, we are professionally serious about the music and the band. This is a professional hobby for us, but we don't rely on paying our mortgages with what we make playing gigs."

Bradley, who has played in bands for years, said Flyer is "all about having a good time."

"We're a little bit older group so I think we have the right perspective," he said. "No. 1 is we do it for fun. When we originally started, we started with no real goals necessarily in mind. Just do it for fun."

The band of 40-somethings took off eight years ago through a chain of friendships.

Lauletta, who flies a Boeing 737, and Bradley, a Boeing 767 pilot and instructor, have been good friends since they were freshmen at the U.S. Naval Academy in Annapolis. Both were Navy pilots who ended up living in the Atlanta area and working for Delta.

Johnson and Bradley met at a ball park while watching their sons play baseball, and Lester met Bradley at church. The trio and another guitar player who moved away started the band and played their first gig in 1996. Lauletta joined about a year later.

The newest member, "Dr. Steve," came aboard one and a half years ago as the result of his wife working with Johnson's wife.

Choosing a name for the group turned into a bigger deal than the members expected. They tossed around names like Midlife Crisis and Inside Out, both of which were taken by other bands, before Lauletta suggested Flyer to represent their common aviation background.

The unique talents each member brings to the band blend perfectly to create a powerful sound, Lauletta said.

"A big part of our sound is Neil Johnson," he said. "He has a really incredible singing voice. Mark has a lot of driving guitar solos. Steve is just a great musician. He hears it in his head and can play it. He knows what a note sounds like before you hit it. Dave is doing his bass thing, and my role is more rhythm guitar."

While the band plays rock 'n' roll and performs in clubs, don't expect to see five long-haired guys covered with tattoos and body piercings.

"People look at us and say, 'You guys are nice guys,'" Lauletta said. "We're real normal people, and we feel like we're lucky to have this in our lives. It's good to have something you really love to do."

The band tries to average two to three performances a month, many of them being private parties "everywhere from a Peachtree City subdivision to BridgeMill," Lauletta said.

"You can't beat having a live band over a deejay," he said, adding they've played neighborhood events, birthday parties, fraternity parties, summer bashes and fund-raising galas. "We know we're going to have a good time, and we want to take everybody along with us."

The band also plays local clubs and restaurants like the now-closed Sports World and Hemingway's on the Marietta Square, which "went over real well," Lauletta said.

"No venue is too big or too small," he said, adding he expects Hemingway's to become a regular gig. "We want to play pretty much anywhere, anytime if it works out."

Bradley added the band has played "all kinds of crazy places and had a ball doing it."

Ideally, the band tries to practice once a week at a member's house, but it doesn't always work out with demanding work and family schedules.

"Practice for us is almost as fun as performing live," said Lauletta, who has two children, Lex II, 8, and Lane, 7, with wife Lisa.